Hope Grows Here
Jeff's Place offers hope and healing in a supportive community for grieving children, teens, young adults, families, and individuals.
HELPING DRIVE CHANGE
Our Services

Grief Support
At Jeff's Place, we never want you to grieve alone. Choose connection.

Community Offerings & Professional Development
We offer a variety of programming, trainings, and workshops for the greater community.

Research
Jeff's Place is the lead investigator for a national research study using the IYAL, an evidence-informed outcome measure for providers of grief support so they can demonstrate how their services change lives.

Corporate Grief Support
We offer consultations and trainings to the corporate community on best practices to support grieving employees.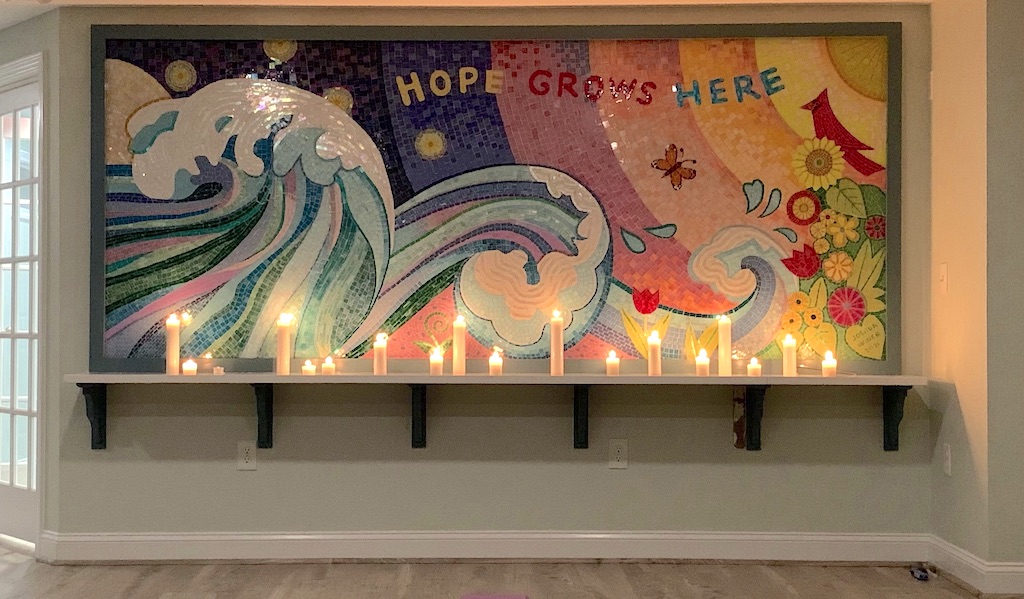 Our Story
About Us
Our logo and the mosaic exhibit elements that our families have discussed within our walls at Jeff's Place. Grief has often been described as a wave; sometimes gentle, other times overwhelming. It's fluid and ever-changing. In the logo, the gently curved wave and our name also reflect that fluidity as the colors shift from dark to light.  We strive to provide light and hope for our grieving families in their darkest moments. Lastly, cardinals have long served as a symbol for grieving families. Our cardinal perched on the crest of the wave is our nod to those who have died who we strive to remember and to honor.
Founder Jenny Kaplan's TED Talk: Creating Healing through Connection & Vulnerability
TELLING STORIES THAT MAKE A DIFFERENCE.
Testimonials

"I volunteered last year at Jeff's Place just once or twice per month to hand out pizza at evening family gatherings. The staff, other volunteers, and families that I met while there reflect what kind of place this is; a warm and welcoming respite for those in need of care during a very vulnerable time. I always mention this place to people I know who have experienced a loss as a potential resource since I believe what they do is so critical. "
– Volunteer

"
Jeff's Place was an amazing support for us when my husband passed away. My boys were 3 and 5. We went to Jeff's place for two years but feel like they will always be there for us. They do such important work and I am so grateful for all they do. "
– Past Participant

"
I am the director of counseling at a middle school in Framingham. Dealing with grief from the loss of a loved one is difficult for anyone. It can be extremely challenging for middle school students who may not have yet developed coping strategies. That is where Jeff's Place has been vital to our school community. For several years now, Jeff's Place has offered free services to our Middle School students who are struggling with the loss of a loved one. Jeff's Place has been extremely professional, understanding, and available to service our students. "
– Mental Health Counselor
SEE WHAT'S HAPPENING AT JEFF'S PLACE.
Sign Up for Our Newsletter
281 Pleasant Street
Framingham, MA 01701