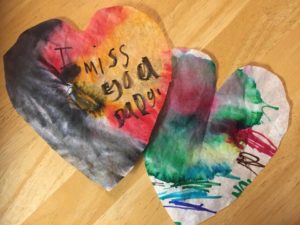 The past year has been like no other. We've experienced many losses on many levels. We haven't been able to gather in person, enjoy our favorite restaurants or even window shop or walk laps at a mall. As a non-profit organization, we've had to adapt quickly and seamlessly to constant changes.
For the second consecutive year, we are reimagining our traditional gala, typically our primary fundraising vehicle. As such, we're thrilled to let you know that Jeff's Place will be hosting a "Hope Grows Here" celebratory weekend on May 21-23, 2021. Our goal is to raise $160,000, representing our annual budget for our gala and Memory Walk which we have Reimagined.
Hope Grows Here: A Virtual Adventure
Between now and May 23rd, we invite you to Forge your own path and Choose your own adventure. You get to decide whether you walk, run, swim, hike, bike or anything else. There's no limit to the type of adventure you create, and there's certainly no limit to how much money you raise. 
Register to participate in the fundraiser and create your own fundraising page HERE. 
During your activity, be sure to take photos and upload them to your social media profile with the hashtag #HopeGrowsHere2021 so we can share them and cheer you on in your efforts.
Join us on Sunday, May 23 for the big celebration.  
We're hard at work planning a spectacular celebratory weekend with hard hat tours, outdoor family fun, food trucks, music and arts activities. We will have special events throughout the weekend for our Sponsors, Major Donors, and Jeff's Place alumni.
You MUST register so we can monitor attendance aligned with CDC guidelines for outdoor events. Please consider supporting us to enable us to continue providing critical support services for children who are grieving.
Your generous contribution will ensure that we continue to:
Grow and provide free support groups for grieving children
Provide individual counseling to our families
As we all know, grief touches everyone. Jeff's Place offers a haven of healing and hope.
We thank you for your support. Contributions are 100% tax deductible per the extent of the law.
Please do not hesitate to reach out with questions. Thank you for your consideration.
Consider A Sponsorship
Hope Grows Here Sponsor $10,000
Sponsor half a support group of grieving children in our program for a year
Top-tier name and logo placement on all printed materials related to event
Prominent logo listing and link on Jeff's Place website, prominent placement of logo on all social media
Prominent logo placement on all event signage and swag
Name recognition on all press releases
Table space at event to promote your business through marketing materials and signage
Hope Grows Here: A Virtual Adventure Sponsor  $7,500
Sponsor a series of school-based and community education on grief and loss
Prominent name and logo placement on all printed materials related to event
Logo listing and link on Jeff's Place website, prominent placement of logo on all social
media
Prominent logo placement on all event signage and swag
Name recognition on all press releases
Table space at event to promote your business through marketing materials and signage
Hope Grows Here: A Food Truck Sponsor $5,000
Sponsor two grieving children in our program for one year
Prominent name and logo placement on all printed materials related to event
Logo listing and link on Jeff's Place website, placement of logo on all social media
Logo placement on event signage and swag
Name recognition on all press releases
Table space at event to promote your business through marketing materials and signage
Hope Grows Here: A Program Sponsor $2,500
Sponsor a grieving child in our program for one year
Name and logo placement on all printed materials related to event
Logo listing and link on Jeff's Place website, placement of logo on all social media
Logo placement on event signage and swag
Name recognition on all press releases
Hope Grows Here: A Jeff's Place Garden Sponsor $1,500
Sponsor one grieving child in time-limited, group-readiness individual therapy
Name and logo placement on all printed materials related to event
Logo listing and link on Jeff's Place website, placement of logo on all social media
Logo placement on event signage and swag
Hope Grows Here: A Jeff's Place Friend Sponsor $1,000
Provide meaningful, ritual healing rocks for ten of our graduating participants
Name and logo placement on all printed materials related to event
Logo listing and link on Jeff's Place website, placement of logo on all social media
Logo placement on event signage and swag