So much is happening at Jeff's Place. We are working hard at several new community initiatives; we started our grandparent support group, and we're getting ready to launch a national research initiative that has been in the works for 10 years.
June will be here before we know it.  Register now for our spring fundraiser, Memories & Milestones, which will take place on June 15, and where guests will enjoy a cocktail reception, tasty hors d'oeuvres and an online & live auction. We are pleased that TV personality Janet Wu will serve as our host for the evening. Our auction will go live on June 1, and we already have a number of exciting items including sporting event tickets, a golf outing, an overnight stay in Cambridge, wine and sports memorabilia.
If you are unable to attend, please consider a donation. We rely on individual donations to help us continue our FREE support groups to our kids who are grieving and their families.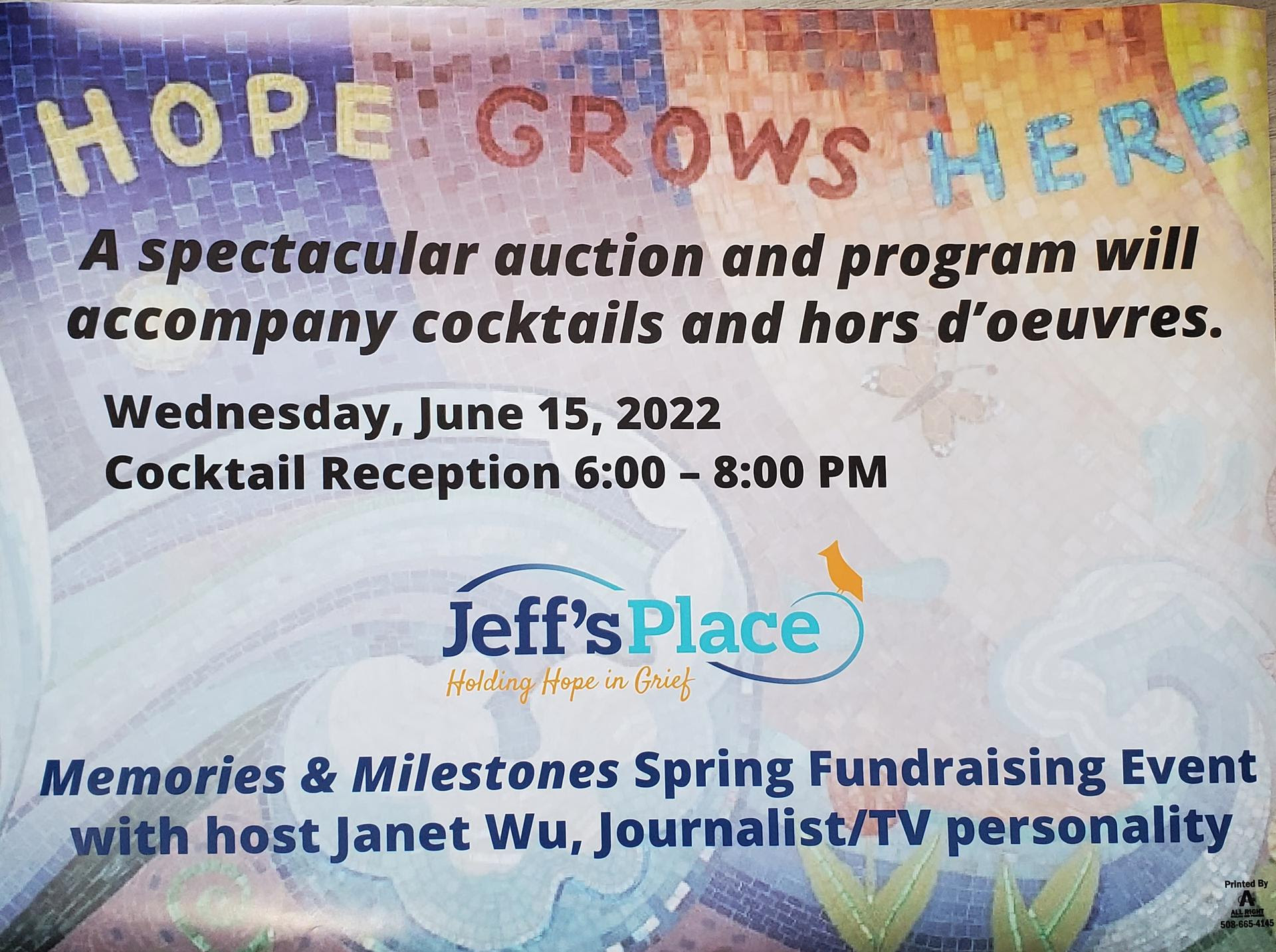 We know that kids and teens are physical in their grief; their bodies are meant to move, and when activity levels decrease, big emotions that come from losing someone close have no place to go.
Thanks to the Haley Cremer Foundation, we received funding to purchase Fitbits to kick off our GriefMOVES initiative during the pandemic. We are thrilled to continue distributing even more Fitbits to  our new kids and teens who joined Jeff's Place this year!
Over April school vacation, our interns, Robby and Sophie, held two drop-in events for the Jeff's Place community. On Tuesday, we enjoyed a pizza lunch, watched The Mitchells vs. The Machines, and spent some time outdoors and in the playroom. On Thursday, we ate pizza and held an open art studio. Attendees made collages, paintings, fairy houses, and more. Stay tuned for future fun and creative drop-in events!
Last month, we were grateful to begin our new Grandparent Support Group for grandparents supporting a grandchild who is grieving. This group runs virtually, allowing grandparents near and far to attend and connect.  Participants have shared resources, learned more about the grieving process, and offered support to one another. This is a time-limited group running until June, but we are currently accepting applications for the fall session.
With a return to in-person programming this year, we're excited to offer school-based groups again.
Jeff's Place partners with local schools to run an 8-week closed group on-site at the school, supporting kids who are grieving the death of someone close.
This particular program model fosters the safety and consistency that helps make sharing about experiences of grief with peers more accessible. Our hope is that these groups foster the beginning of an ongoing conversation about grief and loss; help kids begin to develop some basic coping skills; and connect kids with other kids who "get it".
We are grateful to have had the opportunity to support such thoughtful school communities at Framingham High School & Christa McAuliffe Charter School this winter and spring.
We invite schools and school districts interested in hosting a grief program to contact us at [email protected].
IYAL, the launch of a new research initiative
Jeff's Place is honored to partner with ALEX CARES to make this outcome tool available to no more than 40 providers of children's bereavement services across the US and internationally at no charge.
This initiative will provide the missing piece by making the IYAL broadly available and use the data to demonstrate the strength and usefulness of the measure. Most importantly, it shows how different grief support services help different children worldwide; how programs can grow and change to better serve children; impact public policy related to care; and give the world a glimpse into the experiences of children moving through profound loss.
Consider a gift 
Invest in our future
As our services expand, Jeff's Place is dedicated continuing our support of families who are grieving. But we need your help to make that happen. We invite you to invest in the future of Jeff's Place. Over the next two years, Jeff's Place plans to raise $1,000,000 through Phase II of our capital campaign. These funds will allow us to pay down our mortgage, maintain our new home,  complete our outdoor oasis and fund our national research initiative.
Jeff's Place had been chosen as one of two non-profits to receive a percentage of funds raised for Smiles for Miles in Memory of Sue Willand on her 57th birthday.
Find out more and register here.