We had a taste of summer this past weekend, thankfully, just a taste.  It seems we are back on track to enjoy a beautiful spring.
Our spring fundraiser, Memories & Milestones, is only weeks away. Please consider joining us for a casual evening outdoors to get a feel of who we are and why we do what we do.  Register now to enjoy a cocktail reception, tasty hors d'oeuvres and a live auction and see our new  home. We are pleased that TV personality Janet Wu will serve as our host for the evening. Our auction will go live on June 1. We have a number of exciting items including sporting event tickets, a golf outing, an overnight stay in Cambridge, wine and sports memorabilia.
If you are unable to attend, please consider a donation. We rely on individual donations to help us continue our FREE support groups to our kids who are grieving and their families.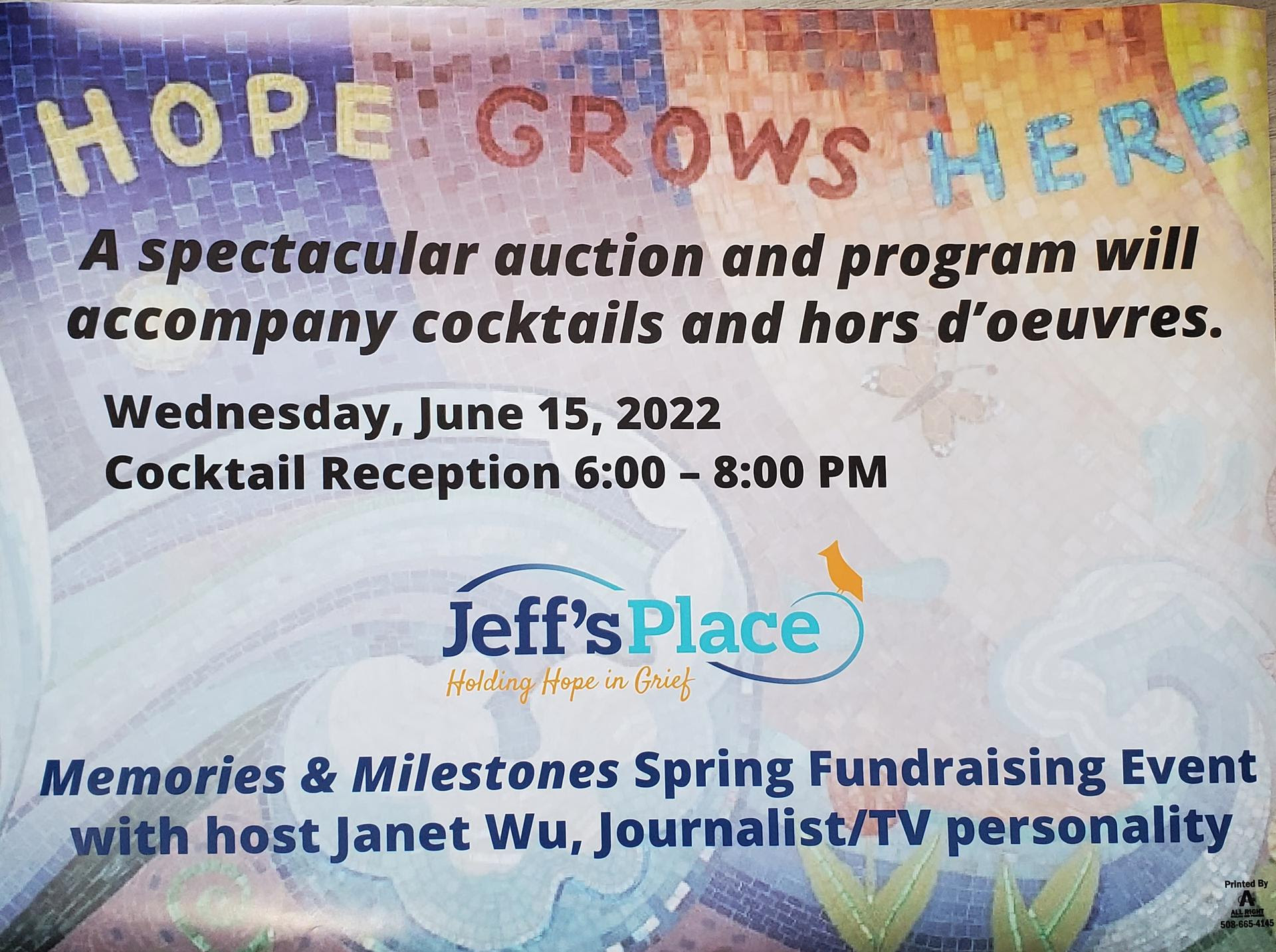 We're busy wrapping up our support groups and planning an end-of-the-year gathering for our families mid-June.
Looking back in review, what a year it's been! We moved into our new home and started in-person groups.  The Berenstain Bears book "Inside, Outside, Upside Down" comes to mind. This year, we've run groups outside, inside, on Zoom… It's been a year to remember! Thank you to our families and facilitators for their flexibility and more importantly, their commitment to our Jeff's Place community.
We were grateful to begin our Grandparent Support Group for grandparents supporting a grandchild who is grieving. This group runs virtually, allowing grandparents near and far to attend and connect. Participants have shared resources, learned more about the grieving process, and offered support to one another. This is a time-limited group running until June, but we are currently accepting applications for the fall session.
Our next facilitator training will be held on September 10 & 11, between 9am and 5pm. Attendance on both days is required.
This fall, we will have open positions for volunteers and clinicians.  Click here to get more involved, and join our Jeff's Place family!
In light of national tragedies in recent weeks, and in an effort to support family discussions around them, we recommend "The Breaking News" by Sarah Lynne Reul. This children's book illustrates a child's experience after a national tragedy.  The themes include community, resilience, and the need for a sense of agency. It acknowledges that "the bad news is still there. But then again, so are we…" and where we go from here. Click here.
Consider a gift 
Invest in our future
As our services expand, Jeff's Place is dedicated continuing our support of families who are grieving. But we need your help to make that happen. We invite you to invest in the future of Jeff's Place. Over the next two years, Jeff's Place plans to raise $1,000,000 through Phase II of our capital campaign. These funds will allow us to pay down our mortgage, maintain our new home,  complete our outdoor oasis and fund our national research initiative.
Jeff's Place had been chosen as one of two non-profits to receive a percentage of funds raised for Smiles for Miles in Memory of Sue Willand on her 57th birthday.
Find out more and register here.